About the 2009 Marathon, 3 Orphan Dinner Dances, Children's Walk. Free AIDS testing
MAMA SARAH OBAMA, BARACK'S KENYAN GRANDMOTHER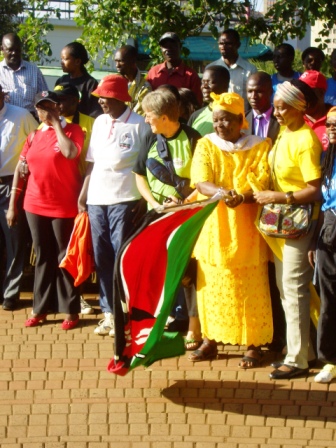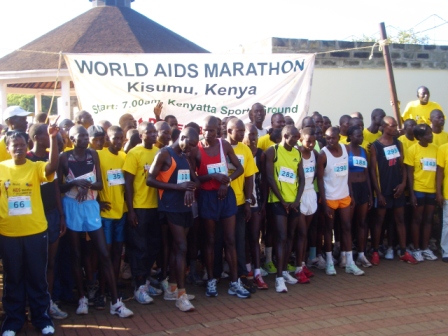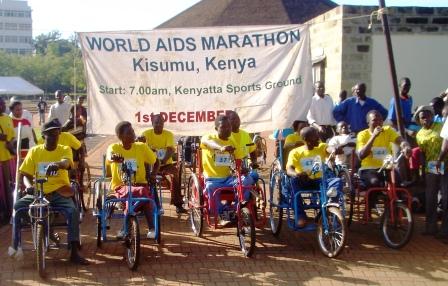 FLAGGED OFF THE 2009
KISUMU, KENYA
WORLD AIDS MARATHON

pictured above (top photo) is Mama Sarah, flag in hand, flagging off the marathon for the runners flanked on left by Alie Eleveld, Program Director of Safe Water and AIDS Project and on right by Betty Okero, coordinator of Civil Society Network Organization; both members of Kisumu World AIDS Marathon Group. (Middle photo) is the start of the 2009 World AIDS Marathon and (bottom photo) is the start for the wheelchair participants. Fifteen wheelchair participants signed up for the World AIDS Marathon. The World AIDS Marathon was sponsored by the Richard M. Brodsky Foundation and Kisumu World AIDS Marathon Group. Special thanks to our major donor, Harber Charitable Foundation as well as the effort put forth by Alie Eleveld, Betty Okero, CDC, Tuungane Youth Project, and Race Director Joseph Ochieng and all volunteers for making this Event possible.
Why Kisumu, why Africa for a World AIDS Marathon?
Three groups provided FREE AIDS testing on World AIDS Day and the evening before: UN AIDS provided a grant for Kisumu Urban Apostolate Progammes-Pandipieri, Liverpool VCT, Aga Khan Hospital, and Tuungane Project. Three of the four groups reported results: one verbally and two in writing, but neither group has authorized me to release these numbers. I will respect their wishes, although very reluctantly. It is really not about these individuals it is more about which government agency decides that these statistics shall remain guarded need to rethink their policies of keeping everything AIDS related a secret. Of the three agencies reporting testing, 563 people were tested. One agency reported
Over 28% of those tested for AIDS, did test positive for the AIDS virus
I thought this was an alarmingly high number, so I contacted Long Island Minority AIDS Coalition (LIMAC), in Long Island, New York to request statistics on AIDS testing. LIMAC does FREE AIDS testing at similar public Events such as the World AIDS Marathon so I thought this would be a fair comparison. LIMAC informed me these records are on file with the Department of Health and that LIMAC tested 551 people for AIDS in the past 6 months and 9 people tested positive. Even 9 people is too many, however, that equates to an approximate rate of 2% testing positive as compared to a 28% rate in Kisumu, Kenya. Clearly more education about how to protect oneself from getting AIDS, FREE distribution of condoms and instructions on how to use condoms properly, promoting AIDS testing, and media coverage to help promote testing is essential.
The stigma of AIDS is much worse in Africa than in America as families often times throw the person living with AIDS out of the home. That's another reason why Jodi and I travel to Kenya to show that AIDS has not destroyed our family and when someone is living with a so-called-life-threatening illness, that is the time for families to come together.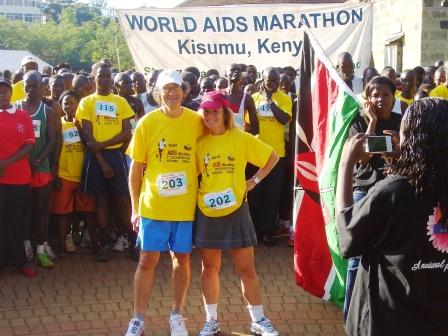 Living in America, I do not consider my being HIV-positive to be a life threatening illness since I have access to the AIDS medicine and follow-up medical care. I also have access to clean drinking water and adequate nutritious food. Clearly, this is not the case for Africans and to the small extent that I can help get the word out about the plight of people living with AIDS, and the problems of malaria, tuberculosis and poverty facing Africa, I feel compelled to help because I realize had I been born in Africa, my children might be three of the 11,400,003 orphans living in sub-Saharan Africa who have lost one or both parents to AIDS. I also am extremely grateful that I am surviving terminal brain cancer for 7 years and I made a promise if my life was spared, I would do everything to help others living with HIV or cancer; hence the three orphan dinner dances the Richard M. Brodsky Foundation co-sponsored with Associated Food Stores of Long Beach, New York; ASAP Screenprinting of Gainesville, Florida, and KenShop Bakery of Kisumu, Kenya.
Pictured below are two of three orphan dinner dances. The first sequence of photos is from Hope Initiative, for more information on how to help, feel free to contact meor Rispah . The second set of pictures is from Reachout Support Centre and you may contact me or Hezekiah. The third set of photos (scroll further down the page) is from St. Claire's orphanage and if you would like to help, please contact Alie Eleveld.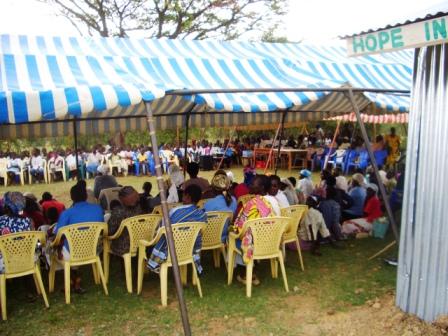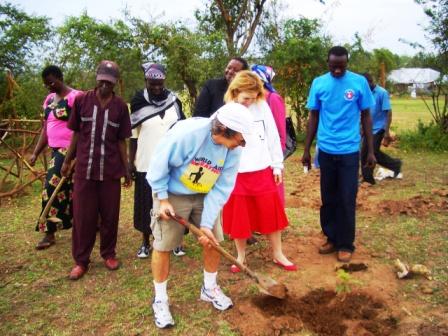 Richard and Jodi Brodsky, pictured above, planting 1 of 15 orange or mango seedlings. These trees will bear fruit in 18 months. Maybe next year if we get plenty of donations we will be able to plant thousands of seedlings and can help reduce the UNICEF statistic that 1 in 8 children in Kenya will die before their 5th birthday and the leading cause of death is hunger. Rispah is pictured on far left. It was Rispah who started Hope Initiative on land donated by her brother.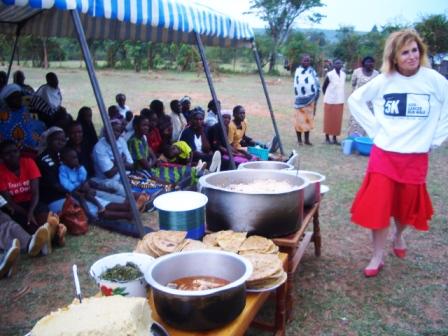 'Richard, you got me to come to Africa five times, but there is no way I'm cleaning these pots for the 200 orphans and 100 caretakers. This isn't like home; you cook and I'll clean.'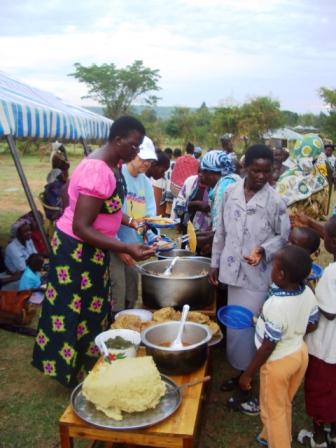 Rispah and Richard serving dinner while Jodi is doing the dishes.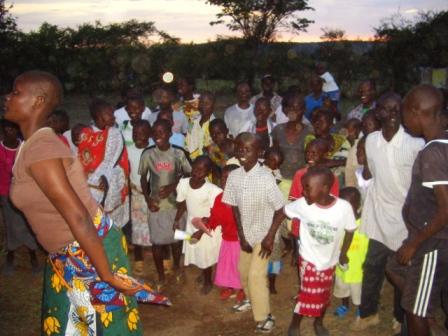 Party time at Hope Initiative as the sun begins to set. End of day November 29, 2009. Thank you very much ASAP Screenprinting for co-sponsoring this orphan dinner.
Pictured below November 30, 2009, Third time the
Richard M. Brodsky Foundation sponsored an orphan dinner dance at Reachout Support Centre for 300+ orphans; this time with the help of Associated Food Stores of Long Beach, New York, acting as co-sponsors. Hezekiah Nyaranga, founder of Reachout Support Centre won the KCA, Kenyan Community Abroad, Award of Excellence for his caring for the orphans back in 2004.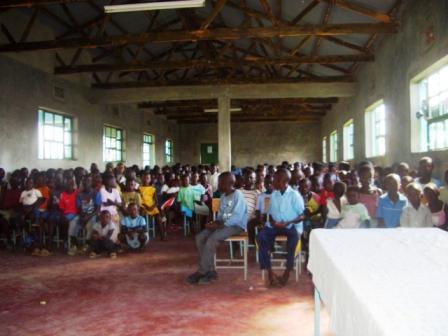 No more renting outdoor tents as the new dining hall could easily accommodate the 300 orphans before dinner. However, since the weather was pleasant we dined alfresco.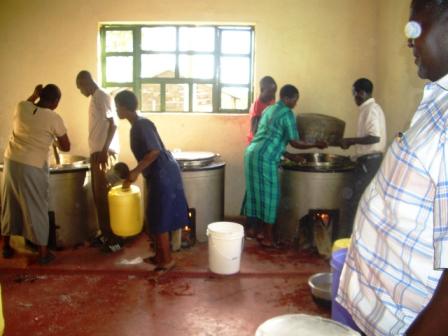 A beaming Hezekiah Nyaranga, far right, as he surely has a right to be proud, how he has gone from driving the night bus route from Nairobi to Kisumu to caring for 400 orphans. Well done, Hez and thanks for not asking Jodi to do any cooking!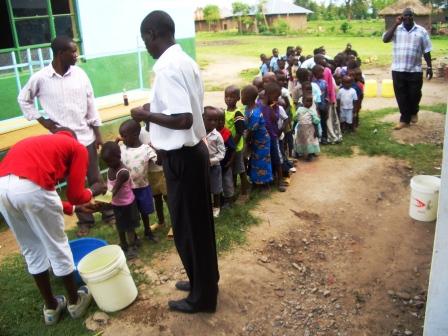 Hez, in the rear making sure his children all wash their hands before dinner.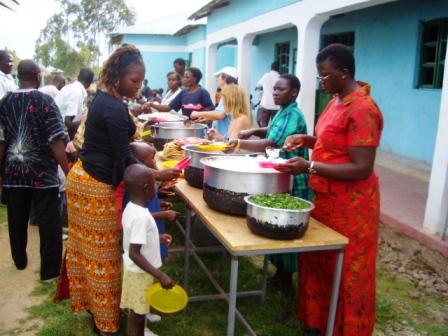 Rispah, far right, orphan caretaker, Jodi and Richard Brodsky serving dinner to the 300 orphans. The new meeting hall is pictured at the top right.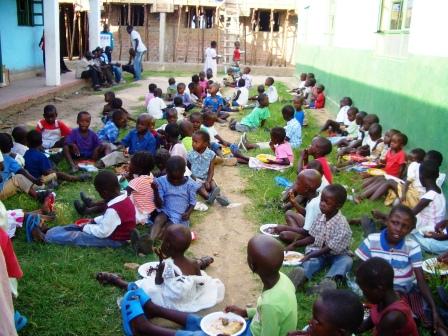 Children enjoying a home-cooked meal. The new building pictured at the top is the girls' dormitory.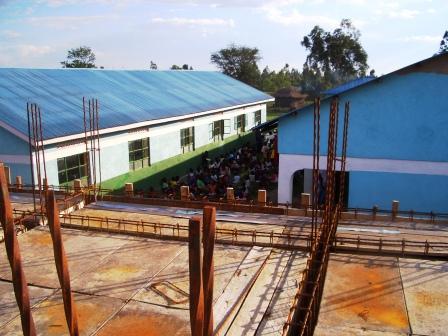 View looking down from the top of the girls' dormitory.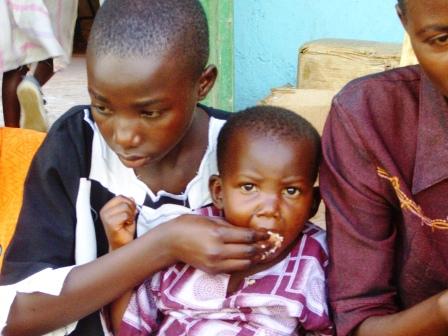 Many older children, who are really still children themselves, have found themselves in a position where their lot in life has become caregiver to their younger siblings.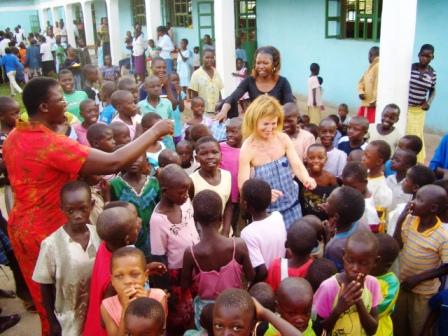 You decide who's having more fun, Jodi or the orphans. Rispah is on the far left in a red dress.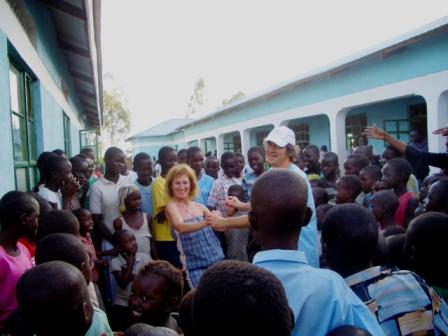 Now, I can honestly say Jodi and I were having more fun, but we needed a little fun because the next day we would be participating in the World AIDS Marathon and the temperature would approach 80 degrees and the altitude of Kisumu is 3,000 feet above sea level and much of the course would be on dirt roads with rocks the size of a fist pounding at your feet for much of the course.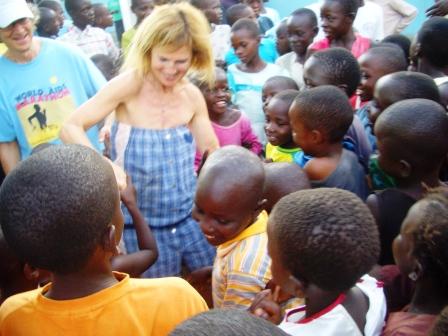 GO Jodi, but please save some strength for tomorrow's run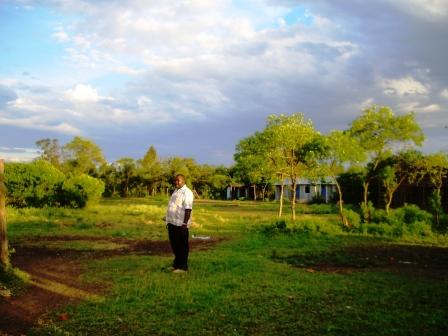 Hez, standing proudly at the new land he recently acquired for a new primary school, a library and a computer room. Behind Hez is a parcel of land about 1 acre and in the foreground, not shown is a parcel of land about 1/3 of an acre. The primary school would be constructed behind Hez and the library and computer lab would be situated in front of Hez. After the orphan dinner at Reachout Support Centre, we had dinner with Mama Sarah, President Obama's grandmother, and her very creative daughter Marsat (pictured below) who designs Mama Sarah's clothing. If you would like to have a Marsat original, please contact me and if Marsat is not too busy she will get back to you. If she is too busy, I will write back on her behalf.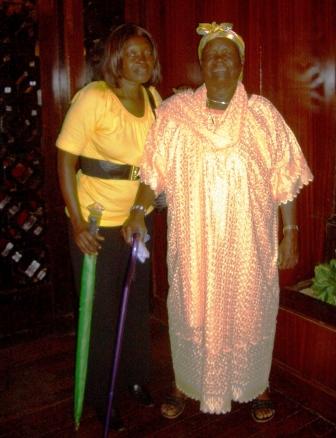 Dinner with Mama Sarah, Why is Mama Sarah so happy?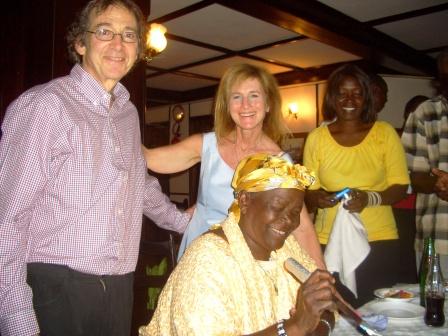 You would smile, too if you were presented with a cake bearing your likeness. Great idea, Alie Eleveld, and thank you Sanjay and Preeti Mandavia for donating the cake.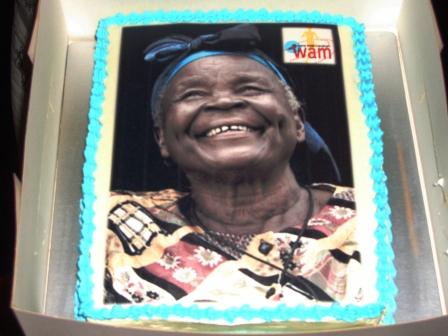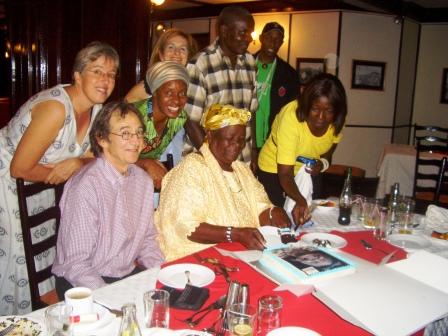 Pictured above seated, Richard Brodsky and Mama Sarah, Standing left to right: Alie Eleveld, Betty Okero, Jodi Brodsky, Joseph Ochieng, Doug Wakiikuri (winner of the New York City and London Marathon in the late 1980s) and Marsat Onyango. End of day, November 30, 2009.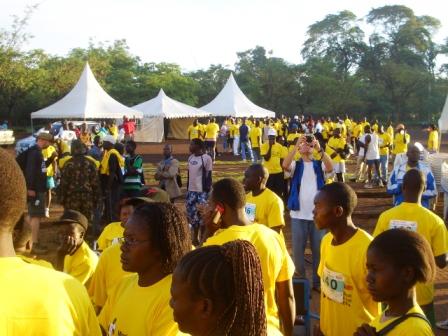 Runners getting ready at the start. The Richard M. Brodsky Foundation and Kisumu World AIDS Marathon Group would like to thank all participants, sponsors and volunteers who helped make the day a successful Event. We would also like to apologize for the delayed start and the few runners who did not receive t-shirts as a few onlookers grabbed some t-shirts.
Pictured below is Tom Ochuka, far left, of Deaf Impact Ministry of Kisumu, who brought a team of runners to participate in the World AIDS Marathon.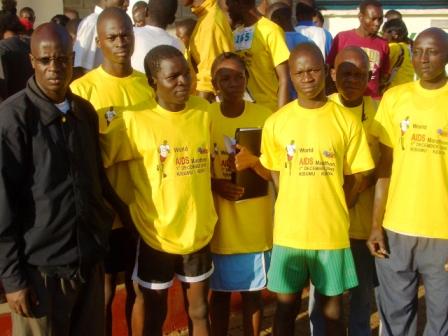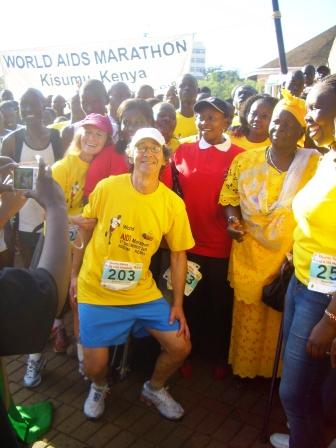 Mama Sarah, pictured second from right, decked out in yellow lace to match the color of the World AIDS Marathon t-shirts. I'm not quite sure why I'm smiling because I had some health related problems from my brain cancer a few months ago and I was only praying I would finish the marathon before the temperature reached 80 degrees. Race results are posted here, then click WAM Race Results 2009.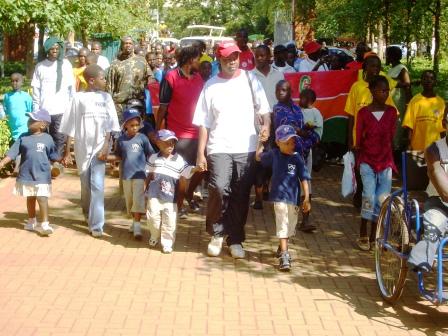 250 children participated in the Children's' Walk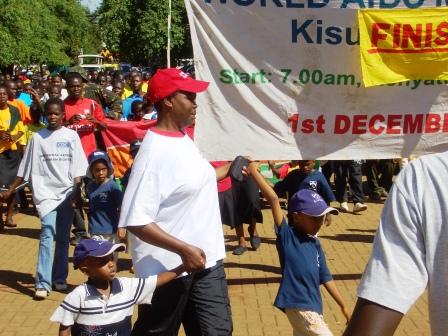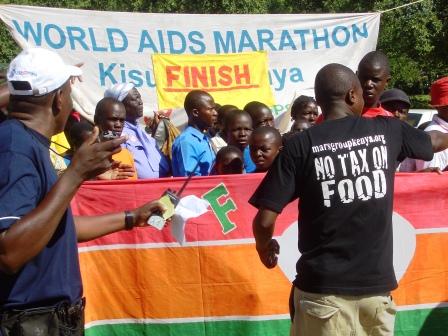 Many groups such as FACES, see below, brought their own banners.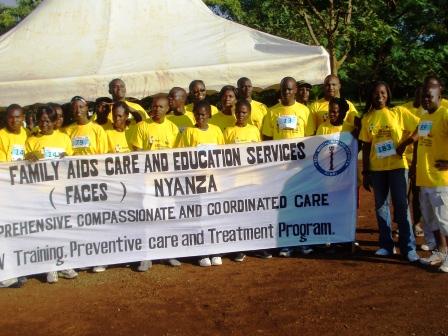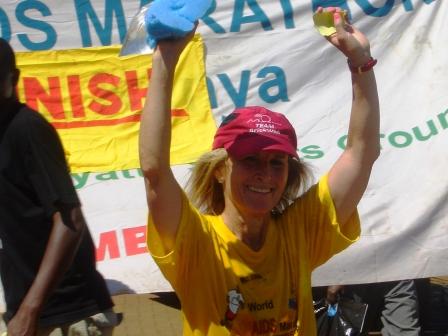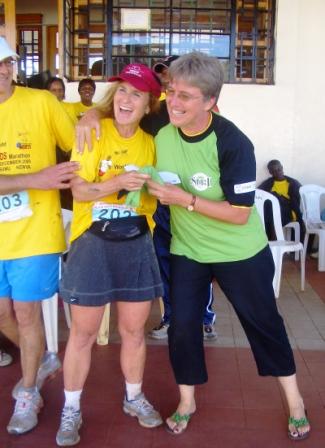 An ecstatic Jodi Brodsky after finding out she finished 4th for the female runners for the full marathon. Richard Brodsky and Alie Eleveld, both congratulating Jodi.
Richard Brodsky finished dead last but then again I was the oldest runner.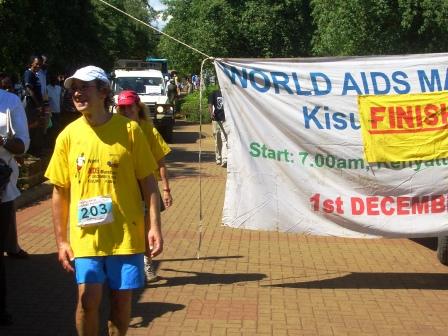 The World AIDS Marathon and related Events were attended by over 1,950 people. Pictured below is 1 of 15 athletes with disabilities; the real heroes of the day.
-300+ runners signed up for the Marathon and Half Marathon and there were 254 finishers.
-250 children participated in the 5k Children's Walk.
-700 orphans participated in orphan dinner dances at Reach-Out Orphan Support Center, Hope Initiative and St. Claire's orphanage.
-700+ people (exact number to be determined) were tested for AIDS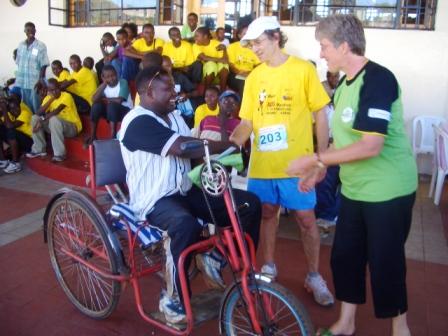 15 wheelchair athletes completed the marathon / half marathon and were each awarded 1,000 shillings, about $13. Not a bad deal considering the entry fee was only 50 shillings, about 65 cents and all participants received an Event t-shirt. The balance of the $1,000 prize money was awarded to the top 5 male / female participants of the half and full marathon. Special thanks to Bank of Africa for also providing 60,000 kenya shillings, $800 in prize money. The winning wheelchair participant for the full marathon finishing in a time of 03:06:09 was Pius Otieno Ochieng, pictured above, and for the half marathon, Mildred Auma, in a time of 01:51:49, took home the GOLD. First place winners for the following races were:
Marathon (male) Peter Kipkoech 2:27:56
Marathon (female) Helen Chenonges 3:12:23 repeat winner from 2008
Half Marathon (male) Elijah Tirop 1:06:08
Half Marathon (female) Susan Kiplagat 1:27:26
All runners also received a Certificate of Completion. We were very fortunate to have Douglas Wakiihuri, pictured below, winner of the New York City and London Marathon in the late 1980s presenting prizes to some of the runners.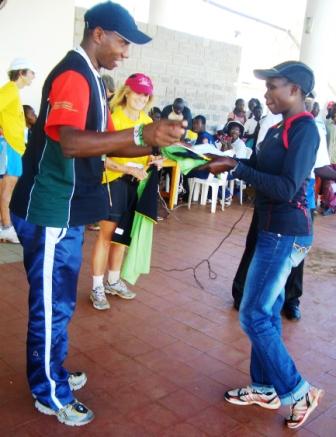 After the marathon, Jodi and I jogged 4 miles to St. Claire's Orphanage where the Richard M. Brodsky Foundation co-sponsored an orphan dinner for 86 orphans with KenShop Bakery of Kisumu, just kidding about the 4 mile jog. The photo below at St. Claire's was taken by Ibrahim Oiro Odero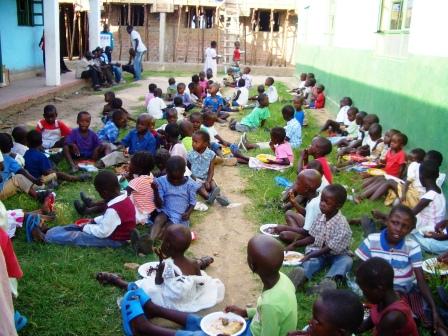 End of day, World AIDS Day, December 1, 2009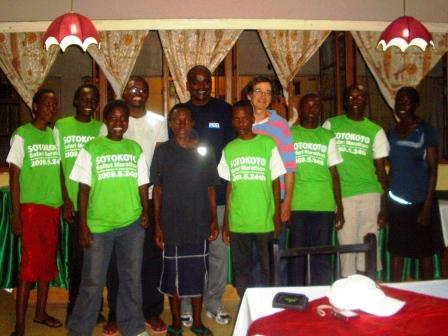 December 2, 2009. We had a chance to say good-bye to Joseph Ochieng, (above, standing 4th from left) board member of the Richard M. Brodsky Foundation, and six of the 25 orphans he cares for pictured in the green shirts. The two runners dressed in blue were part of a team of Uganda runners who traveled with their coach, William Mungadi, standing third from left.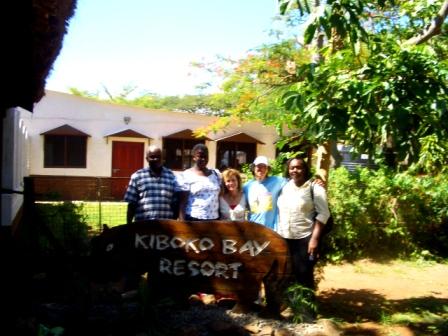 Farewell lunch at Kiboko Bay Resort, left to right, Joseph Ochieng, Rispah, Jodi and Richard Brodsky and one of my favorite people in Kenya, Beldina Opiyo-Omolo, Public Health Specialist with Millenium Cities Initiative. Beldina is clearly in the minority as she returned to Kenya after graduating from an American college to help her fellow Kenyans.
Prior to Jodi and me arriving in Kisumu we spent a day in Nairobi. Saturday, November 28, Jodi and I had the opportunity to visit the local Nairobi Hebrew Congregation and pray that we would run a successful race and we will have the opportunity to run in many more World AIDS Marathons and raise a lot of money for AIDS and cancer charities. We stayed at the President of the Synagogue's home, Dr. David Silverstein, personal physician to former President Daniel Moi. Jodi and I were fortunate to be there for the Sabbath, and even more fortunate as I was the 10th and final Jewish male to be present so the service could proceed and the Torah was taken out of the ark and read. Part of the charm of the congregation is that it has no Rabbi and each of the 10+/- regular male members takes turns conducting the service. This week the service was conducted by a Jew from Cocina, a Jewish Community in India. Kenya's only Synagogue even has a website where you can read more about its history and Interfaith relations. These photos were taken from earlier years as it is not permitted to take photos in the Synagogue on the Sabbath.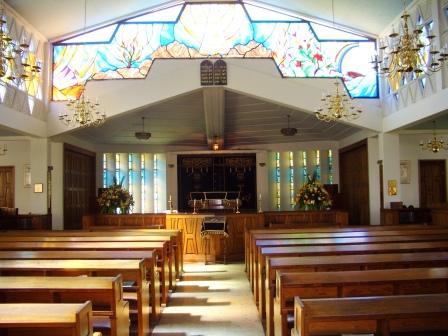 Interior of Nairobi Hebrew Congregation, pictured above and below
It was very difficult raising money for this year's marathon and orphan dinners but Jodi and I decided it was important for us to run the marathon and let the orphans know that we represent people in America who really do care about the orphans in Africa. If you've already given a donation to the Richard M. Brodsky Foundation, thank you very much. It is not too late to make your donation now. For $100, you can have your name placed on the commemorative 2010 Event t-shirt, pictured below is the 2009 World AIDS Marathon t-shirt, and the shirt will be mailed to you after the 2010 World AIDS Marathon. Your donation will help pay for some closeout costs for the 2009 World AIDS Marathon and related Events. Special thanks to ASAP Screenprinting of Gainesville, Florida for providing FREE Commemorative Event t-shirts and sweatshirts. Sweatshirts are available for a $125 donation. If you would like a 2010 Event t-shirt or sweatshirt kindly submit your donation before Christmas, 2010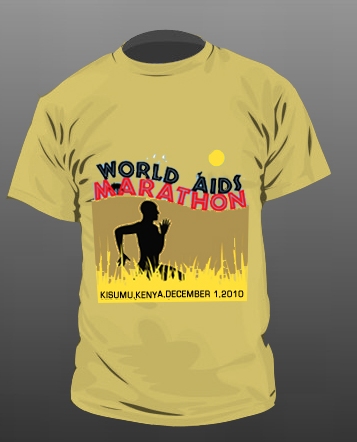 T-shirt designed by Jonathan Boyle of Ireland and Rupert Reyneke of California
One last way to raise money for the Richard M. Brodsky Foundation. While visiting a friend's home I came across a forest of flowers which a florist in America typically charges about $8+ per stem. In the picture below there must be about 100 stems of the flower. If anyone could ever find out about selling these flowers, if you have any on your property, to a local flower exporter and donating a portion of the proceeds to the Richard M. Brodsky, your donation will help feed the orphans of Kenya.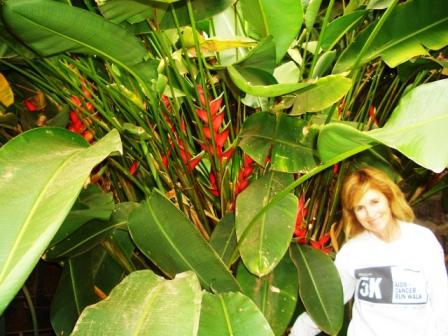 Special thanks to a lot of people
I would like to thank President-Elect Barack Obama; President Clinton; Stephen Lewis, former United Nations Special Envoy for HIV / AIDS in Africa; Senator Ted Kennedy; Congresswoman Carolyn McCarthy; Nassau County Executive Tom Suozzi; and Town of Hempstead Supervisor Kate Murray for their support for the Foundation's work which includes its annual World AIDS Marathon held in Kisumu, Kenya as well as the 5k AIDS / Cancer / Survive / Run / Walk in America. These letters can be viewed by visiting the website link on the left,
LETTERS OF SUPPORT. The American Medical Student Association, AMSA, has also created a story line of the Foundation's work which can be viewed on FACEBOOK. Also, The One Campaign has also been very supportive of my work. If you are interested in hearing me speak and seeing photos of the Foundation's work in America, the One Campaign and the American Medical Student Association have covered my speaking fee in the past.
In closing I would like to thank Mama Sarah and her daughter Marsat Onyango for their presence at the start of the 2008 and 2009 World AIDS Marathon and the Daily Nation for covering both the 2008 and 2009 World AIDS Marathon.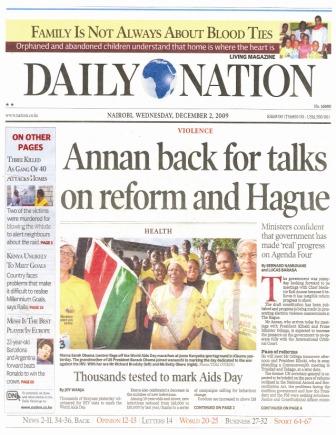 December 2, 2009, the caption above reads as follows:
Mama Sarah Obama (centre) flags off the World AIDS Marathon at Jomo Kenyatta sportsground in Kisumu yesterday. The grandmother of US President Barack Obama joined wananchi in marking the day dedicated to the war against the HIV. With her are Richard Brodsky (left) and Ms. Betty Okero (right) photo/Tom Otieno.
The article which follows was written by Joy Wanga. Reproduction of this article and/or photo is permitted provided the following is stated: Reproduction of this article and / or photo is permitted provided the person and / or media outlet states that permission to use this article and / or photo is granted courtesy of nation Media Group Limited as the Publisher, Tom Otieno, photographer and Joy Wanga, writer.
Looking forward to seeing everyone who visits this website in Kisumu, Kenya for the 2010 World AIDS Marathon.
The Richard M. Brodsky Foundation and Kisumu World AIDS Marathon Group kept their promise by making World AIDS Day and the preceding days a memorable event to orphans, runners, people whose lives have been affected by AIDS, and the people of Kisumu. We hope that others will help contribute towards these expenses so money can be donated to various AIDS projects, http://www.richardmbrodsky.org/support.html and these events can happen more often.

Donations can be made via either website, www.richardmbrodsky.org or www.worldaidsmarathon.com or by mailing a check to:
The Richard M. Brodsky Foundation
1247 Mara Court
Atlantic Beach, NY 11509
President Barack Obama has wished me success on four occasions since I started running marathons in Kenya. It would be my greatest wish to inform President Obama that people in America are truly supportive of people whose lives have been affected by AIDS. With a little luck, maybe I'll get my chance to thank President Obama in person if he chooses to show his support for defeating global AIDS be visiting Kenya on World AIDS Day 2010.
***
The Richard M. Brodsky Foundation, Inc. is a registered 501(c) (3) public charity.
(c)2005 Richard M. Brodsky Foundation
The World AIDS Marathon and its logo are trademarks. All Rights Reserved.