About the 2010 Marathon, 2 Orphan Dinner Dances, Children's Walk. Free AIDS testing
START OF THE 2010 WORLD AIDS MARATHON. 404 RUNNERS INCLUDING 29 WHEELCHAIR PARTICIPANTS COMPLETED THE MARATHON, HALF MARATHON & HALF MARATHON RELAYS.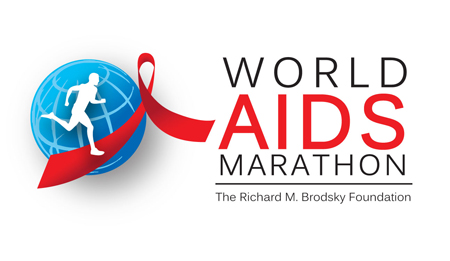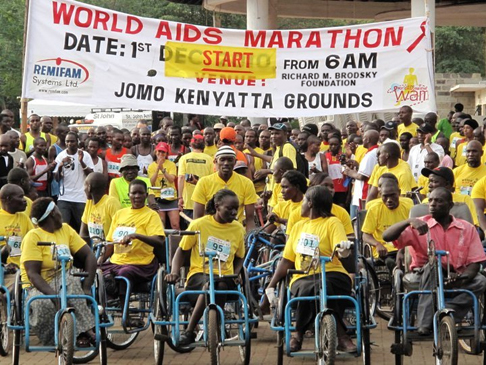 note: photo above was altered to include the name Richard M. Brodsky Foundation which was inadvertently omitted on banner (pictured above is Jodi Brodsky in a red hat under the letter 'O' in Jomo Kenyatta and Richard Brodsky's back under the letter 'N' in Kenyatta along with the 500+ registrants who attempted to complete the World AIDS Marathon, half marathon and relay runs.) photo, courtesy of Alan Rubin.

World AIDS Day, December 1, 2010, Kisumu, Kenya. The Standard, one of Kenya's leading newspapers wrote an article about my wife and me, Jodi and Richard Brodsky. For five straight years we have been traveling to Kenya a few days before World AIDS Day so the Richard M. Brodsky Foundation can sponsor orphan dinner dances. The Richard M. Brodsky Foundation also co-sponsors the World AIDS Marathon with the Kisumu World AIDS Marathon Group.

A record number of participants, 404, completed the half and full marathon. Of the 404 runners, 29 were disabled athletes, and 80 were part of relay teams.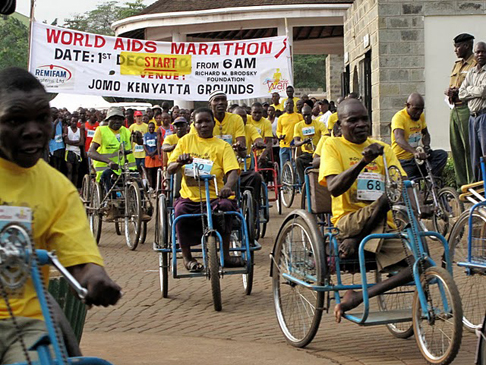 note: photo above was altered to include the name Richard M. Brodsky Foundation which was inadvertently omitted, start of the 2010 World AIDS Marathon pictured above. I'm actually in the photo, see the guy with the red hat below the letter "N' in Kenyatta. That's me. You can be in the photo, too next year.

The winners of the marathon / half marathon / wheelchair marathon and wheelchair half marathon for male / female divisions and half marathon relay

Race results are posted here, then click WAM Race Results 2010.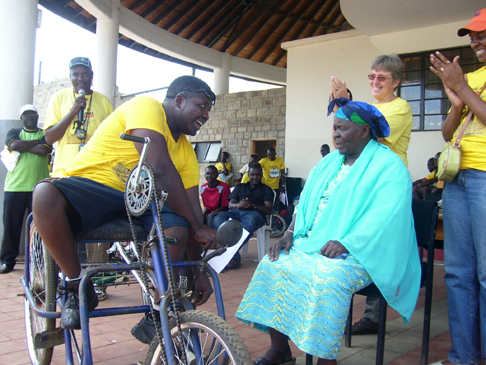 The Richard M. Brodsky Foundation also donated $1,000 in prize money. Half the amount was given by CHIFU, aka Abdul Yakub on behalf of KCA, Kenyan Community Abroad. Thank you Mama Sarah, President Obama's grandmother, pictured in blue above, for giving out the prize money. The Event was largely organized by the Kisumu World AIDS Marathon Group, KWAMG, and promoted by both KWAMG and the Richard M. Brodsky Foundation, RMBF. Two members of KWAMG and RMBF, Joseph Ochieng (holding the microphone) and Alie Eleveld (the white lady) are both board members of RMBF and KWAMG. Pictured on the far right is Betty Okero, also a member of KWAMG and Kenya's Civil Society.


Race Event Organizer Alie Eleveld, Project Manager of Safe Water and AIDS Project, provides clean drinking water for the marathon as well as much of Western Kenya. Alie does fundraising and all the logistics of making sure the Event run smoothly are on her shoulders. Joseph Ochieng, the only Level III Race Walking judge in Africa certified by the International Athletics Association Federation, serves as Race Director.

Runners participated from all over the globe including a large contingency from CDC/KEMRI, pictured below.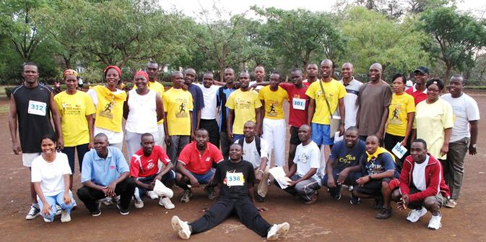 Runners also came from Ohio (Max & Elisabeth McKibben, pictured below in red cap and pink top) who traveled overland from Mombassa; a journey that required an overnight stay in Nairobi. There were 8 other runners from Ohio who also participated.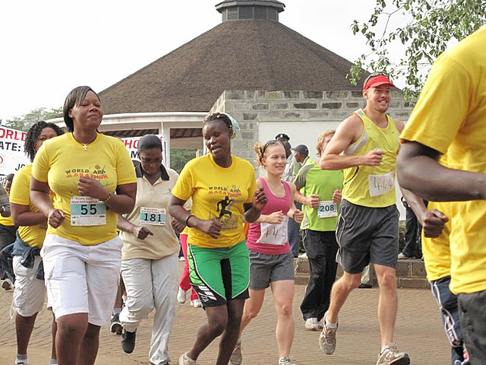 A group of 10 +/- runners came from Ahero representing Deaf Impact Ministries, numerous relay teams came from the families at CDC/KEMRI (pictured below, top left), one of the founding Board Members of the Richard M. Brodsky Foundation, Philip Maiyo, brought 13 runners from Eldoret to the World AIDS Marathon. Philip (pictured below with Richard and Jodi Brodsky, top right) is also Secretary of the Chepkero Athletics Club and through his club he has arranged for 213 athletic scholarships for Kenyan runners to be educated in American universities. In addition we had a team or runners from Uganda who won GOLD in the relay run.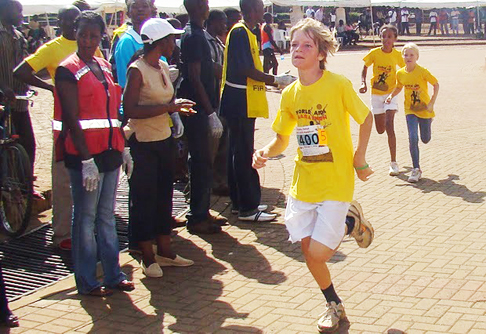 KENYANS WERE BORN TO RUN, what about me, dead last again, in just under 7 hours. Even my wife beat me again by 30 minutes as I crossed the finish line. What was I thinking, maybe I should have trained harder and longer and then, my wife's eyes tell the story. There was no one there to greet us except Rispah A. Ochola of Hope Initiative who took the 2 photos below. Thanks Rispah.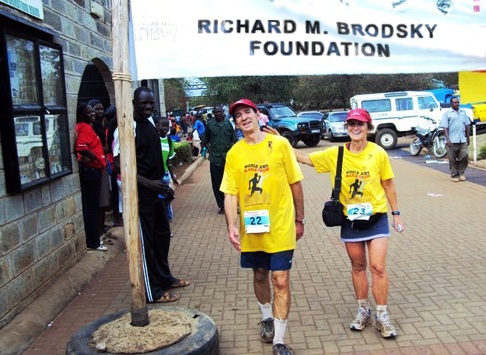 Mama Sarah, President Obama's grandmother, if you are viewing this website link, I apologize for not being there with you when you gave away the $1,000 in prize money that was donated by the Richard M. Brodsky Foundation and Abdul Yakub, aka CHIFU, on behalf of KCA, Kenyan Community Abroad. Kenyans, it should be a good feeling to know that the Kenyan Community Abroad is supportive of Events helping Kenyans.

This is not exactly a marathon course I would recommend for first time marathoners. I don't think my being HIV-positive slowed me down but perhaps it was my brain cancer and broken shoulder. When one of the Board Members, Joseph Ochieng, suggested I only run the half marathon so I could be part of the post-marathon ceremonies, he wasn't kidding. Even though the temperatures approached 80 degrees, the roads were very bumpy, the altitude is 3400 feet above sea level and the last 8 kilometers were run along city streets with diesel fuel engines spewing forth black smoke; my job was to complete the marathon as there could be no do-overs.

Pictured below is the Children's Walk which was organized by Beryl Audi of CDC/KEMRI, 150 children participated.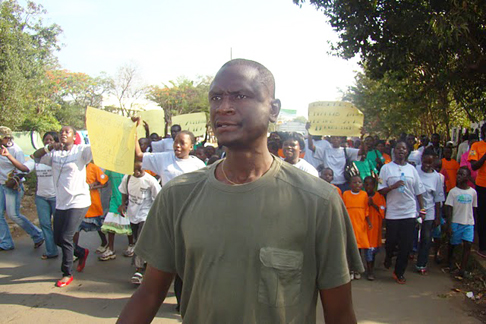 My friend Asha and her husband of Kenshop of Kisumu provided the breads for the children. Compulynx, Ltd, Hasbah, Shitul Enterprise, Ingine General Stores, Bulb Motors, Lake Printers / Sanjay, Civil Society Organization Network, and Safe Water and AIDS Project also provided food and water for the children's walk and the runners.
The 2010 World AIDS Marathon & related Events were attended by over 1,900 people.
Party time at Hope Initiative. You can hardly tell from this photo that 1 child in 8 will die before their 5th birthday and hunger is one of the leading causes of death according to UNICEF. That's my wife Jodi in the pink dress. If you really want to treat your wife special, consider bringing her to Kenya next year on World AIDS Day. Hope Initiative and Rispah need your help. They have the land but they need to establish medical clinics, provide daycare and vocational training, and are in need of a steady source of food and clean drinking water. Feel free to contact Rispah Ochula.
500 orphans, caretakers and relatives took part in the Brodsky Foundation's 2nd annual orphan dinner dance at Hope Initiative, Kendu Bay.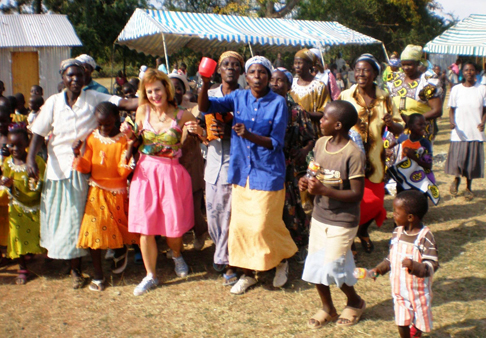 Through funds requested by the Richard M. Brodsky Foundation: the Dutra Family / Dunkin Donuts of Lawrence & Valley Stream, and Owen and Ethel Robinson of UN General Realtors Group, LLC, sponsored its 2nd annual orphan dinner dance for 500 orphans and their caretakers at Hope Initiative, Kendu Bay, on November 29, 2010. As you view these photos, 'how can you not visit Kenya on World AIDS Day 2011 and be part of the festivities? Can't you feel the joy in the widows dancing and the accordion player below?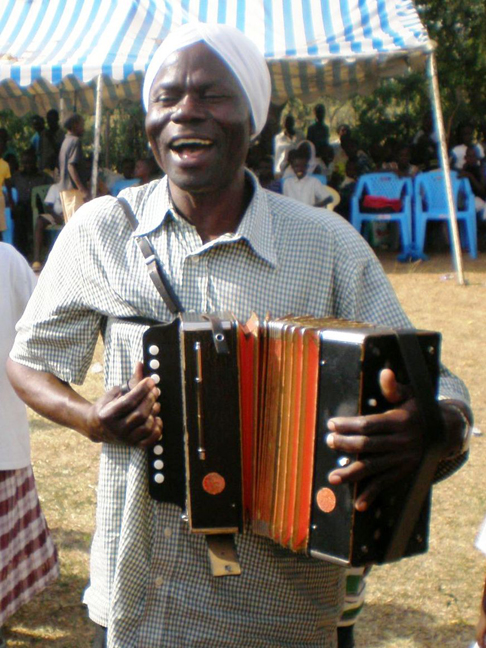 Someone forgot to tell these children that poverty is rampant in Africa. Either that or Rispah is doing a fantastic job caring for these children. End of day, November 29, 2010.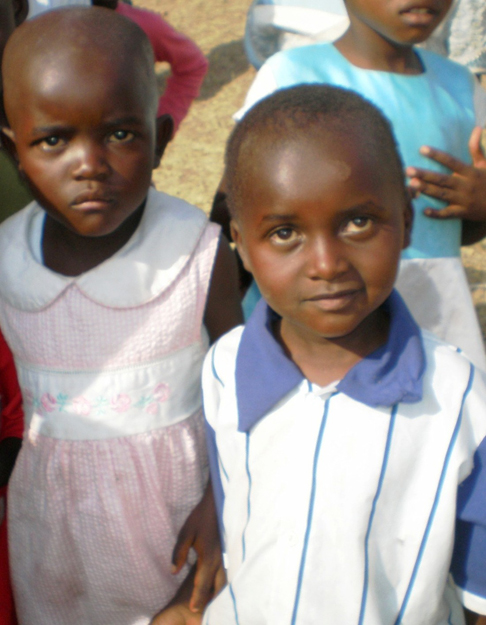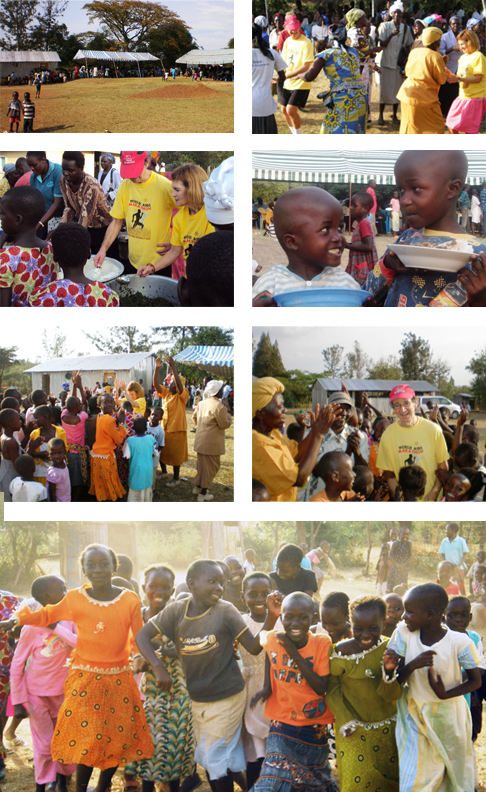 4th visit in as many years to Reachout Support Centre
Omar Rodriguez of Associated Food Stores of Long Beach, New York and Maidenbaum Property Tax Reduction Group, LLC, of Cedarhurst, New York, co-sponsored this orphan dinner dance for 370 orphans. Rispah (far left) accompanied Jodi and me to the orphan dinner dance at Reachout Support Centre. Hezekiah Nyaranga runs the facility. There is no place I would rather be at this giving time of year. I would rather be here in Kenya doing our small part to help the orphans of Africa than anyplace else in the world and Jodi's smile confirms our commitment.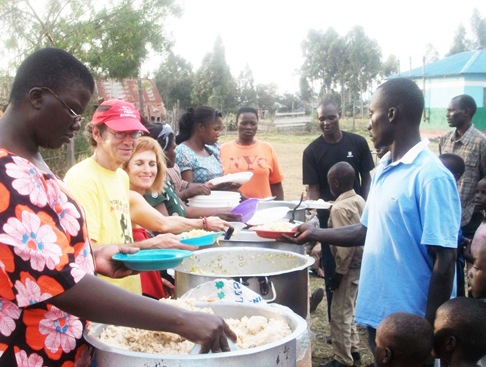 Whether it's serving the orphans or dancing with them, Jodi and I are having a ton of fun.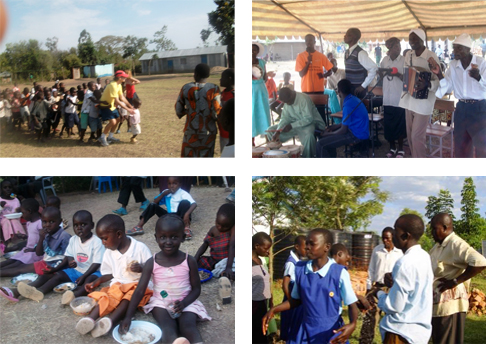 Hezekiah Nyaranga, the director of Reachout Support Centre, makes sure everyone washes their hands before eating.
Welcome to the Nairobi Hebrew Congregation

Jodi and I visit the Synagogue ever year and say a prayer wishing for peace and a speedy recovery for all who are ill. We also pray that we may have a good run and there will be cures for all illnesses in the near future. Special thanks to Dr. David Silverstein and Channa Commanday who invite us to stay in their home when we arrive in Nairobi. We typically arrive around 10:30 PM, go for a jog the next morning, visit the Synagogue and then return to their home for lunch and then fly to Kisumu. Dr. David Silverstein is the personal physician to the former President of Kenya, Daniel Moi. Dr. Silverstein and President Moi did visit Israel together. Israel and Kenya have a friendly relationship and Israel does humanitarian work to help Kenya by sharing its knowledge and manpower to improve public health, irrigate land and provides advice on fighting terrorism. For more information about the relationship between Israel and Kenya you can read more.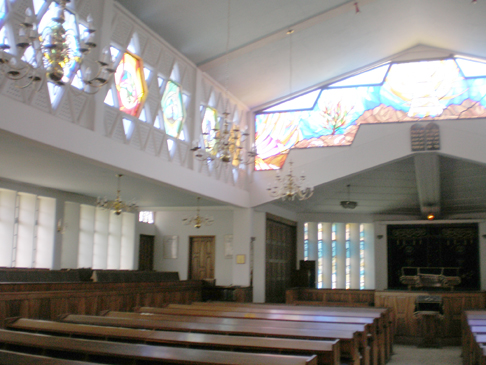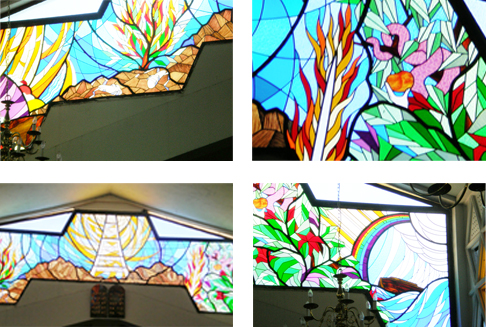 A visit to Impala Park

Thank you Jessica Butcher for arranging for Jodi's and my tour of Impala Park in Kisumu. I wish you and Integri Tours great success. Two hours was perfect and our guide Abraham was the best.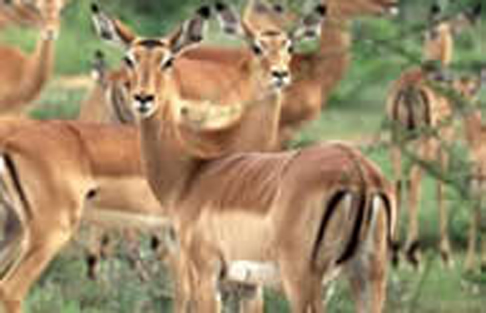 Special thanks to a lot of people

I would like to thank President Barack Obama; President Clinton; Stephen Lewis, former United Nations Special Envoy for HIV / AIDS in Africa; Senator Ted Kennedy; New York State Senator Dean Skelos; Congresswoman Carolyn McCarthy; former Nassau County Executive Tom Suozzi; Town of Hempstead Supervisor Kate Murray and Nassau County Legislator Denise Ford for their support for the Foundation's work which includes its annual World AIDS Marathon held in Kisumu, Kenya as well as the 5K AIDS / Cancer Run / Walk in America. These letters can be viewed by visiting the website link, view letters. The American Medical Student Association, AMSA, has also created a story line of the Foundation's work which can be viewed on FACEBOOK. The One Campaign has also been very supportive of my work. If you are interested in hearing me speak and seeing photos of the Foundation's work in America, the One Campaign and the American Medical Student Association have covered my speaking fee in the past.

It continues to be very difficult raising the $6,000 for Jodi and me to travel to Kenya plus the related costs for the World AIDS Marathon and orphan dinners. Jodi and I decided it was important for us to run the marathon and let the orphans know that we represent people in America who really do care about the orphans in Africa. If you've already given a donation to the Richard M. Brodsky Foundation, thank you very much. It is not too late to make your donation now. For $100, you can have your name placed on the commemorative 2010 Event t-shirt, pictured below is the 2009 World AIDS Marathon t-shirt, and the shirt will be mailed to you after the 2010 World AIDS Marathon. Your donation will help pay for some closeout costs for the 2010 World AIDS Marathon and related Events. Special thanks to ASAP Screenprinting of Gainesville, Florida and the Plainview Jewish Center for providing half of the FREE Commemorative Event t-shirts. If you would like a 2010 Event t-shirt kindly submit your donation before January 15, 2011.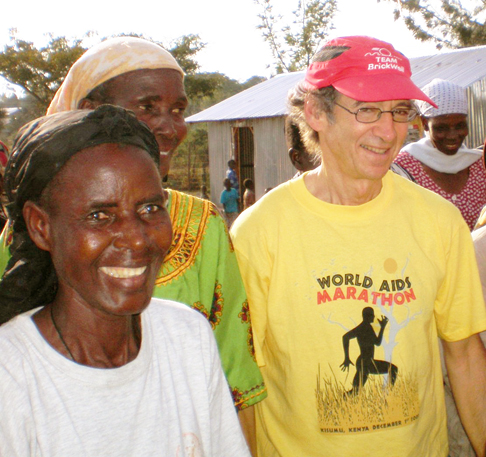 T-shirt designed by Jonathan Boyle of Ireland and Rupert Reyneke of California.

We are looking forward to seeing everyone who visits this website, to visit us in Kisumu, Kenya for the 2011 World AIDS Marathon.

The Richard M. Brodsky Foundation and Kisumu World AIDS Marathon Group kept their promise by making World AIDS Day and the preceding days a memorable event to orphans, runners, people whose lives have been affected by AIDS, and the people of Kisumu. We hope that others will help contribute towards these expenses so money can be donated to various AIDS projects, http://www.richardmbrodsky.org/support.html and these events can happen more often.

Donations can be made via either website,
www.worldaidsmarathon.com or by mailing a check to:

The Richard M. Brodsky Foundation
1247 Mara Court
Atlantic Beach, NY 11509



President Barack Obama has wished me success on four occasions since I started running marathons in Kenya. It would be my greatest wish to inform President Obama that people in America are truly supportive of people whose lives have been affected by AIDS. With a little luck, maybe I'll get my chance to thank President Obama in person if he chooses to show his support for defeating global AIDS be visiting Kenya on World AIDS Day 2011.
***
The Richard M. Brodsky Foundation, Inc. is a registered 501(c) (3) public charity.
(c)2005 Richard M. Brodsky Foundation
The World AIDS Marathon and its logo are trademarks. All Rights Reserved.