World AIDS Marathon - 2011

Dr. Richard Sartori, an American pediatrician from Garden City, New York, examined 56 orphans at Hope Initiative, Kendu Bay and Reachout Support Centre, Kisumu on November 29 & 30, 2011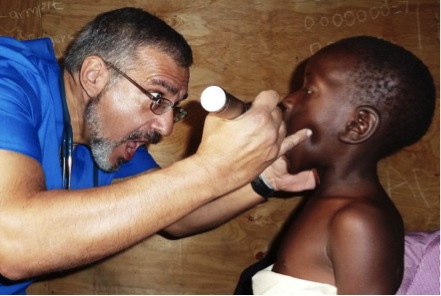 Say ahhhhhhh! America's HERO. Thanks Dr. Sartori for being the 1st American to travel with Jodi and me to Kenya. You're one in 320,000,000 or whatever the current population of America is!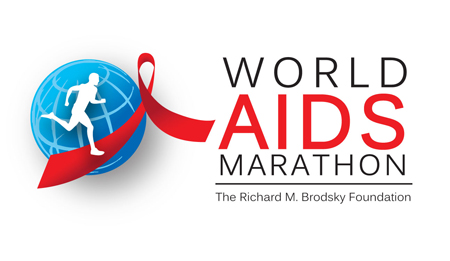 WAM 2011 Poster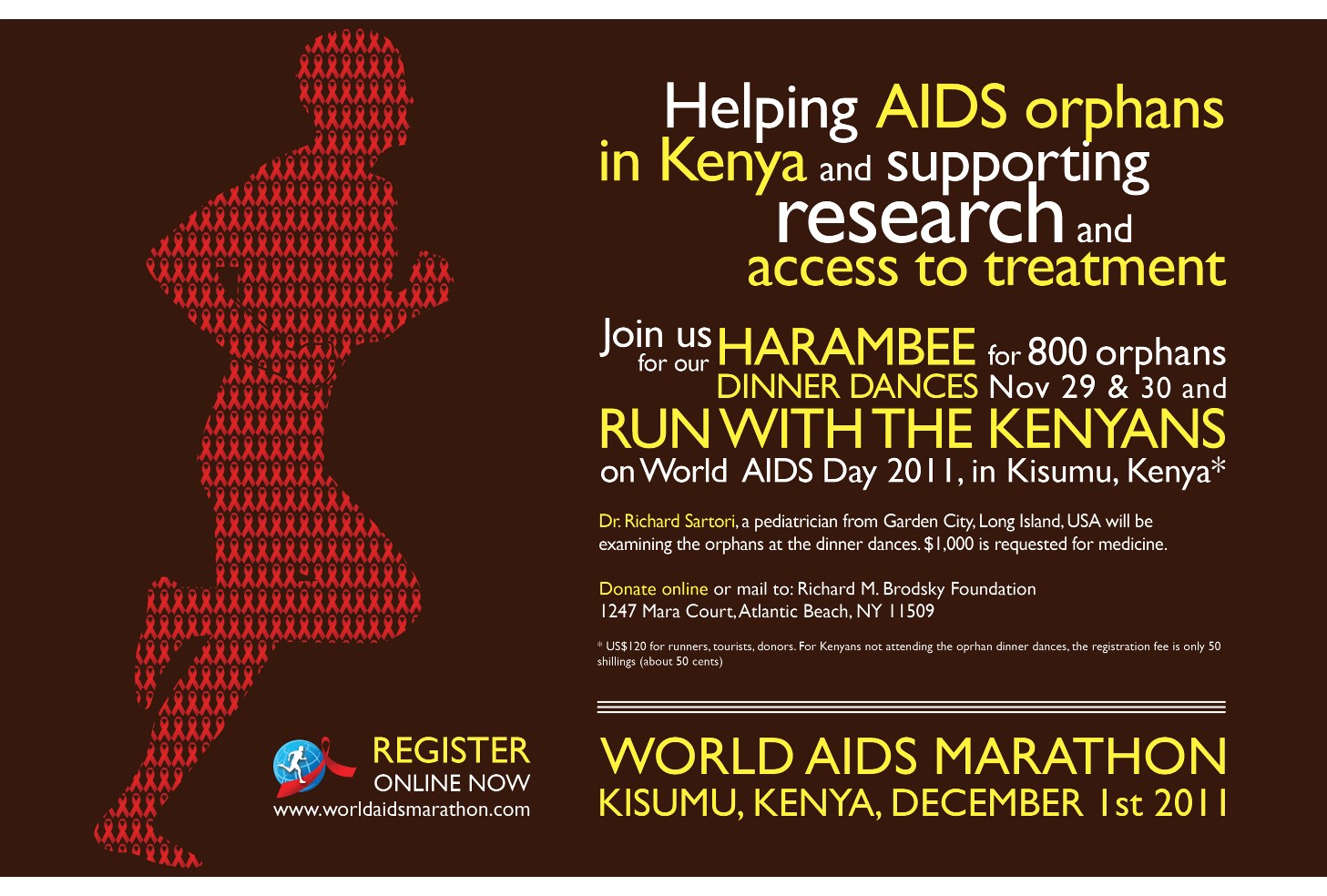 WELCOME TO THE WORLD AIDS DAY 2011 Kisumu World AIDS Marathon, half marathon and various relay races. This was the 6th annual Event sponsored by the Richard M. Brodsky Foundation and Kisumu World AIDS Marathon Group. Over 2,450 people, a record turnout, were involved with the races and related Events.

-735+ runners and walkers registered for the World AIDS Marathon, half marathon and relay races.
-154 children participated in the children's walk
-500 volunteers served water, provided medical assistance, organized and served food, directed traffic, registered participants and assisted with timing.
-314 people were tested for HIV as reported by Professor Alloys Orago, Director of NACC.
-46 men were circumcised as reported by Dr. Walter Obiero, Director of Nyanza Reproductive Health Society.
-56 orphans were examined by Dr. Richard Sartori, a pediatrician from Garden City, Long Island, New York, USA on November 29 and 30 at two orphan dinner dances.
-650 orphans were served dinner at two orphan dinner dances.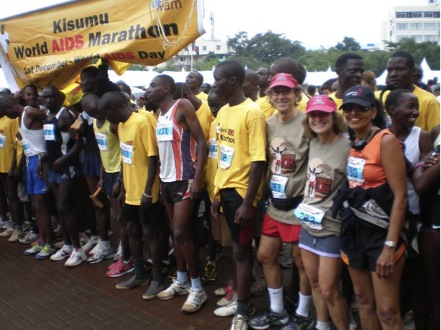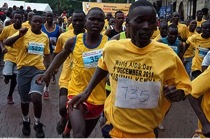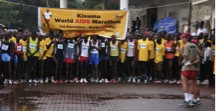 My name is Richard Brodsky and I'm President of the Richard M. Brodsky Foundation, a 501(c) 3 public charity operating out of Atlantic Beach, New York. Pictured above (top photo, 2nd and 3rd from right in the front row is my wife and me, Richard & Jodi Brodsky). I'm HIV+ since 1997, a brain cancer survivor since 2002 and a marathon runner for life. That's Jodi and me in the bottom right photo where I am telling the field of runners how we (the runners and volunteers) are here today to raise awareness that people living with HIV must have access to the AIDS medicine and follow-up health care. The AIDS pandemic is far worse in sub-Saharan Africa as 2/3 of people dying from AIDS every day live in sub-Saharan Africa. The lack of clean drinking water, hunger and education contrasts sharply with widespread poverty, malaria and tuberculosis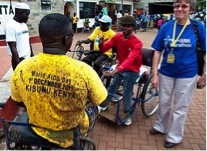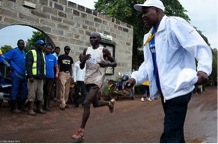 Board member Alie Eleveld (photo, top left, far right) was the main organizer and fundraiser of the Event. Alie, through her organization, Safe Water AIDS Project, provided clean drinking water, 500 volunteers, plus a host of organizations which provided vehicles, t-shirts, banners and food. Special thanks to Alie's main funder, the Harbor Charitable Foundation, for making the World AIDS Marathon possible. Board member Joseph Ochieng (photo top right, far right) serves as race director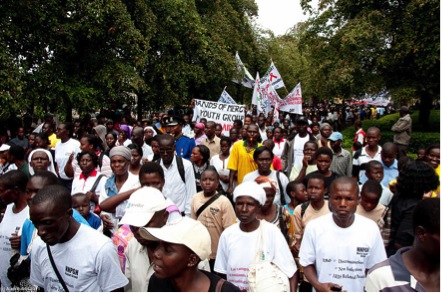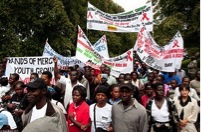 The National AIDS Control Council featured their annual World AIDS Day marching parade along the marathon route at the start and finish of the 2011 Kisumu World AIDS Marathon.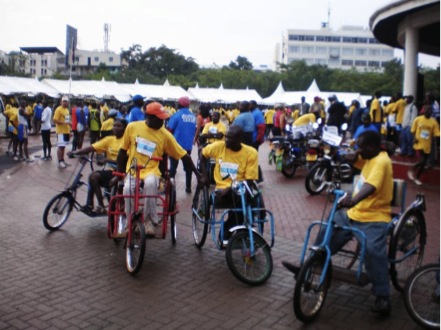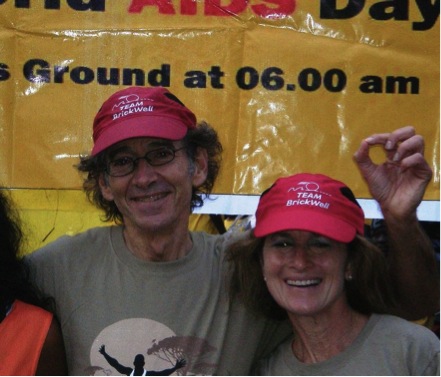 We're not just any marathon; we're running to raise awareness both in Africa and globally that AIDS sufferers must have access to the AIDS medicine. We run so we can collectively channel our energy to say, "ZERO New HIV Infections!" With one voice we can speak for the 14,800,000 orphans in sub-Saharan Africa who have lost one or both parents due to AIDS. We'll not sit idle while 4,900 +/- people die from AIDS each day & 7,100+/- people are diagnosed with HIV each day.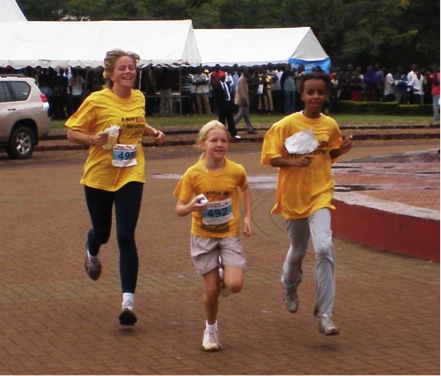 A few of our younger relay runners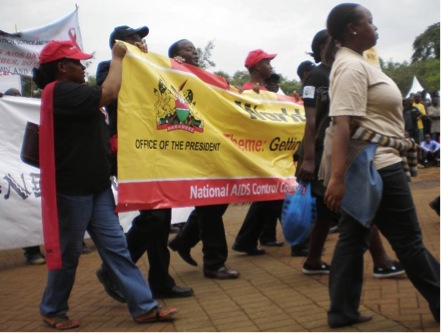 National AIDS Control Council banner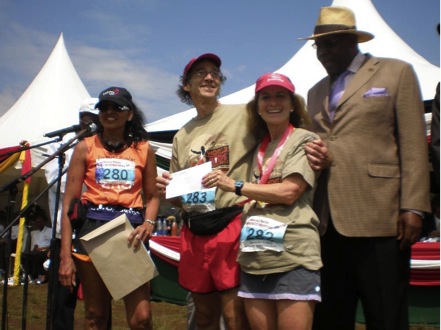 My wife Jodi came in 3rd place for the marathon and I got to present her with her share of the prize money. Surinder Folwer, left above, came in 2nd place. My Foundation donated a modest $1,000 for prize money. We are still sorting out the race results which is why the winners are not noted at this time.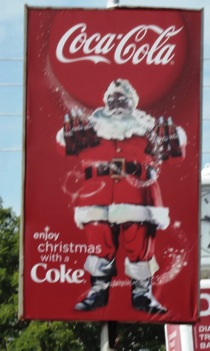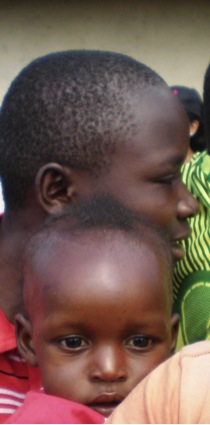 Santa, whether you're black or white, please take care of the orphans of Kenya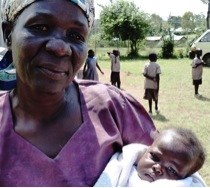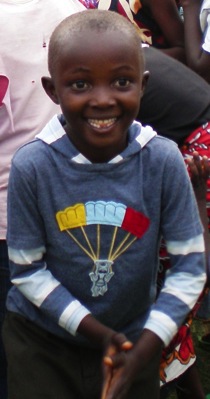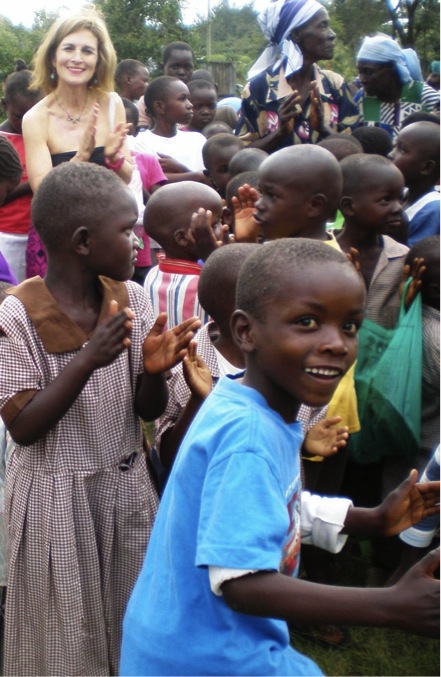 Pictured above at the top left is Jodi Brodsky dancing with the orphans at Hope Initiative at Kendu Bay, Kenya, November 29, 2011. The orphan dinner dance was sponsored by the Mazzitelli family of Atlantic Beach and David & Surinder Fowler of England. If you do nothing else today, try and make a child smile especially one you do not know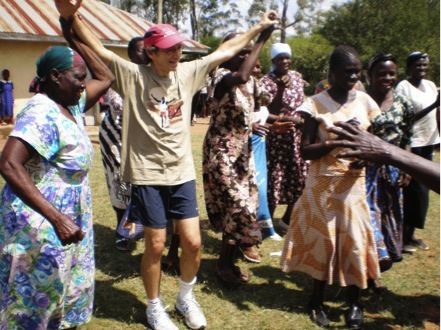 That's me dancing with the caretakers at Hope Initiative. It's almost criminal that one person could be having so much fun. Consider joining Jodi, Dr. Sartori and me next year.
And then we got to dine with the orphans.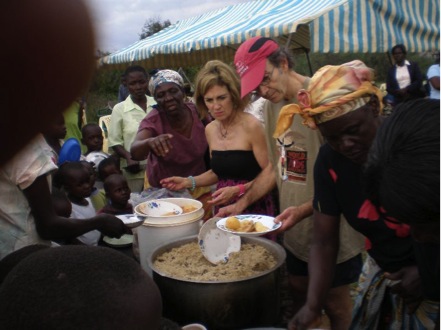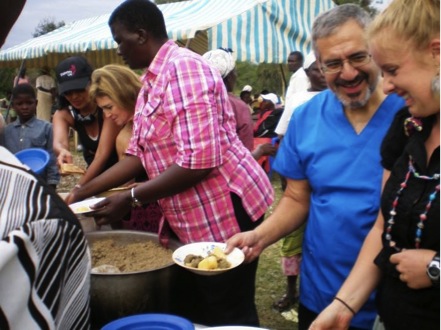 Pictured left to right, Surinder Fowler, Jodi Brodsky, Rispah Ochula, Dr. Richard Sartori, Anna Martin (peace corp volunteer)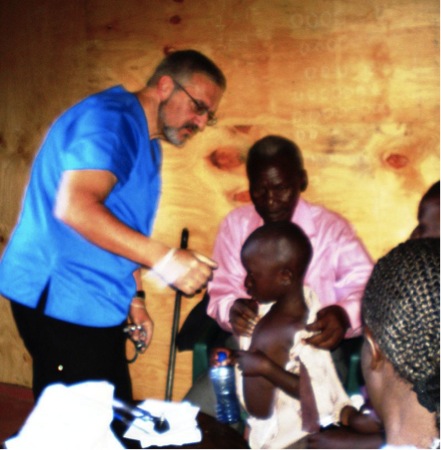 Pictured above, Dr. Sartori consulting with Dr. Joseph. Dr. Sartori informed me that 85% of the children had malaria. When he asked the orphans if they EAT DIRT, most of them said yes. Dr. Sartori went on to explain that the dirt has parasites which weaken the child's immune system and makes it more difficult for the child to fight malaria. Dr. Sartori and the Richard M. Brodsky Foundation both donated $500 for medicine. Dr. Sartori said he thinks he can get a team of doctors to come to Kenya next year.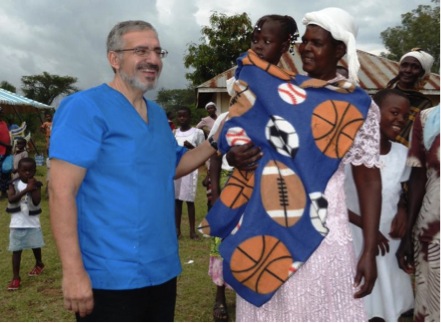 A beaming Dr. Sartori presenting a blanket that his daughter Katherine donated. Tom Glenn of Long Island also donated coloring books.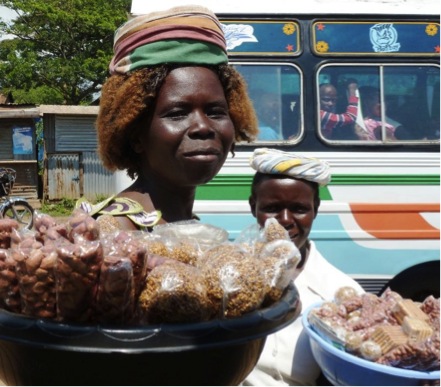 The street life in Kisumu is very colorful, next stop, Reachout Support Centre for an orphan dinner dance for 150 orphans. Checkout the matching colors of the women's turban and the bus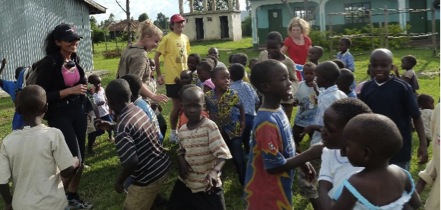 Two days of partying in a row, how lucky is my wife Jodi, Pictured right to left in the rear, Jodi and Richard Brodsky, Anna Martin and Surinder Fowler. Maidenbaum Property Tax Reduction Group, LLC, of Cedarhurst, NY and the Richard M. Brodsky Foundation co-sponsored the orphan dinner dance at Reachout.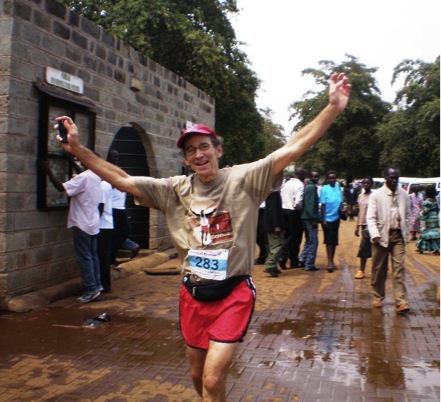 What a difference two days make. December 1 was the World AIDS Marathon. Jodi's time, a personal best for the World AIDS Marathon was 04:55 and my time was 06:20. Surinder Fowler's time was 04:45, Anna Martin, the Peace Corp Volunteer and Dr. Richard Sartori both completed the half marathon in 02:25 and 03:20 respectively. December 2, we visited Impala Game Park and then we had lunch at Kiboko Bay Resort overlooking Lake Victoria. This tropical oasis has 12 one and two bedroom thatched huts with modern bathrooms set among acres of tropical plants. By now you know us all except Beldina Opiyo-Omolo, Public Health Specialist at Millenium Cities Initiative, at the head of the table, 3rd picture down.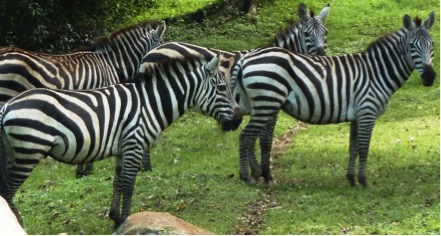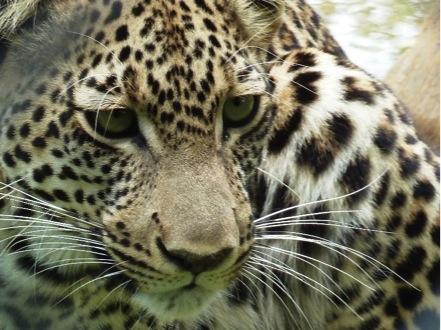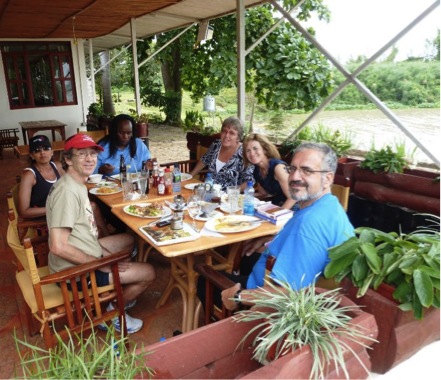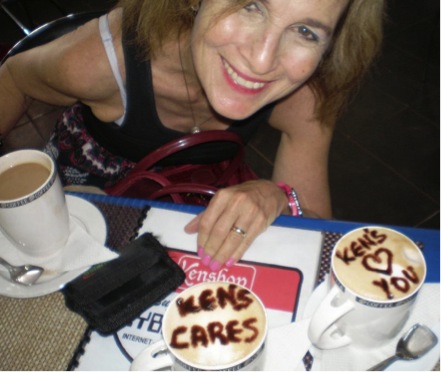 Before returning to Nairobi we had one last cup of coffee at Kenshop. Really nice. Thanks, Asha, for making Jodi and I always feel so welcome.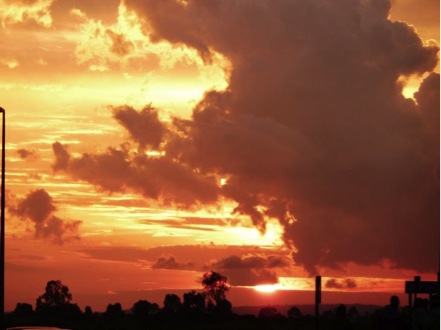 SUNDOWN COMES TO KISUMU, KENYA, mindful of the fiery sunset; we knew we were blessed to witness a ball of fire in the sky at the Kisumu Airport.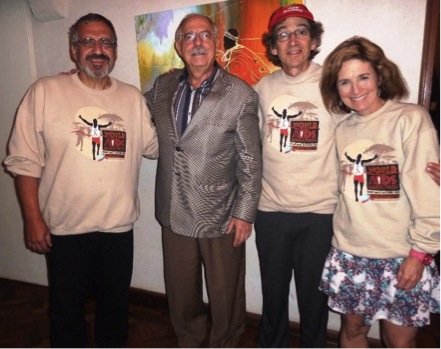 We arrived back in Nairobi where we stayed at the home of Dr. David Silverstein, pictured in jacket above, and Channa Commanday. Thank you Dr. David Silverstein and Channa Commanday for inviting Dr. Sartori, my wife Jodi and me to stay at your home. Dr. David Silverstein is Honorary Life Rosh Kehilla and current vice-chairman of the Nairobi Hebrew Congregation, and personal physician to Arap Daniel Moi, the former President of Kenya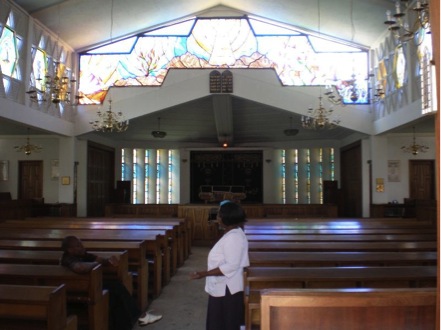 My camera could not capture the bright colors of the stained glass windows from a distance, but the photos below were taken at closer range, and you can feel the brilliance of the interior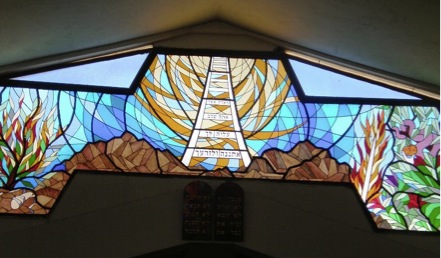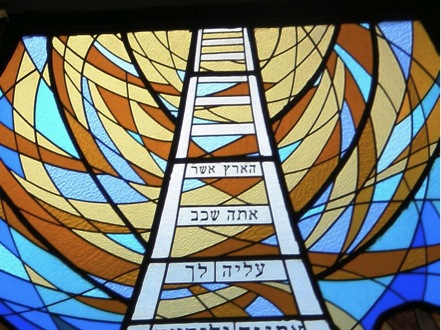 While we usually stay at Dr. Silverstein's home in Nairobi before we head out to Kisumu, Kenya, we got a great deal on a flight from New York to Nairobi on Turkish Airlines for under $900. This also allowed us to visit Istanbul during a nine hour layover and by staying one extra day we had the opportunity to attend Saturday services at the Nairobi Hebrew Congregation.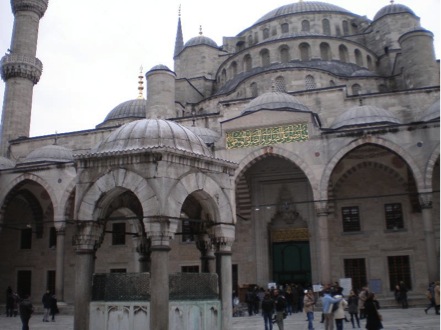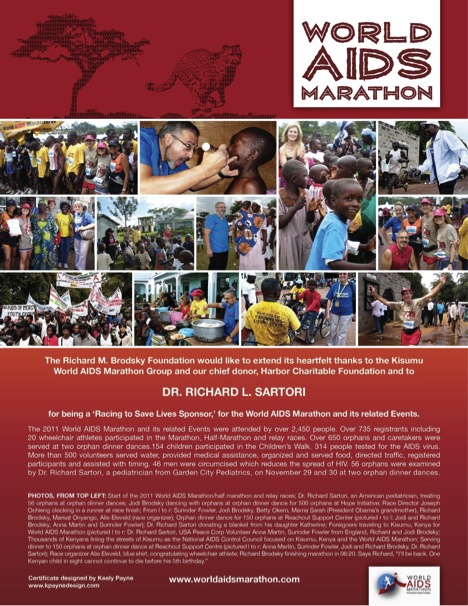 CERTIFICATE OF APPRECIATION for the 2011 World AIDS Marathon was sent to all donors contributing $20. It tells the story of the work the Richard M. Brodsky Foundation did in Kisumu, Kenya for the week we were there. So even if you could not join us for the 2011 World AIDS Marathon, you felt like you were there by your donating $20. Donations are still being accepted for the 2011 World AIDS Marathon.

ACCORDING TO UNICEF, the number of children dying worldwide every day has been reduced to 21,000. Whether you choose to donate to my Foundation or another worthy cause, please make a donation in this giving time of year.
Thank you to the following groups and individuals who helped the Kisumu World AIDS Marathon Group to make sure the 2011 World AIDS Marathon would be a successful Event: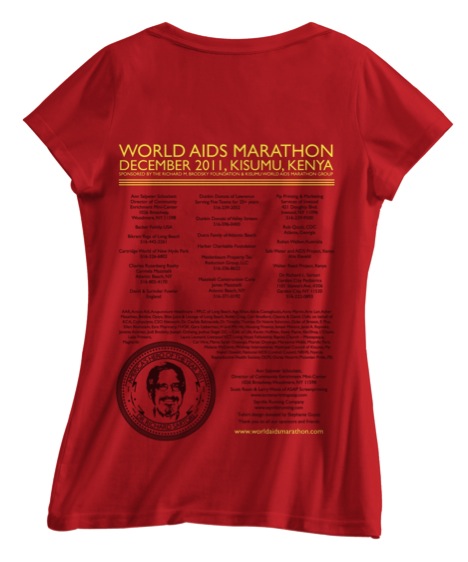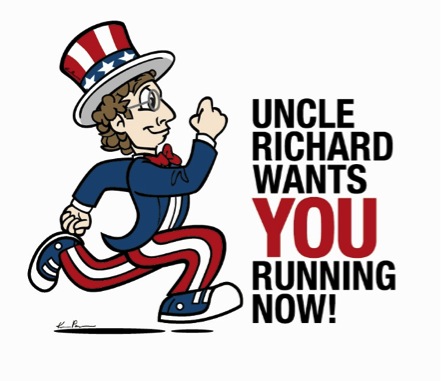 Donations Can still be made:-
www.worldaidsmarathon.com or by mailing a check to:

The Richard M. Brodsky Foundation
1247 Mara Court
Atlantic Beach, NY 11509


***
The Richard M. Brodsky Foundation, Inc. is a registered 501(c) (3) public charity.
(c)2005 Richard M. Brodsky Foundation
The World AIDS Marathon and its logo are trademarks. All Rights Reserved.