About the 2007 Marathon, Orphan Dinner, Children's Walk. Free AIDS testing
1,200+ people participated in various events
World AIDS Marathon / Half-Marathon - 217 participants                                                   
Orphan Dinner for 350 orphans 
500 children participated in Children's Walk 
140 people tested for the AIDS virus  
The World AIDS Marathon held on December 1, 2007 sponsored by the Richard M. Brodsky Foundation and co-sponsored by the Kisumu World AIDS Marathon Group, did not rely on huge sponsors so we were freer to plan our event without corporate sponsor demands. Our event had 217 participants whereas the marathon one day later had a major corporate sponsor, but only had 67 participants. Our event was brilliantly managed by Dr.  Timothy Thomas, Alie Eleveld, Joseph Thuku, Betty Okero and racing officials Joseph Ochieng and Philip Maiyo. Volunteers in America included Art Somers, Pamela Somers, and Artie Wallace. Many other volunteers participated and to all of them, 'thank you very much.' The marathon winners for male and female were Dismos Rotira, 02:30:03 and Helen Chenoneg, 02:59:50. The half marathon winners for male and female were Bernard M. Tinga, 01:11:27 and Rose Jebet, 01:23:48.
SUCCESS STORIES & HEROES
On the eve of the World AIDS Marathon, 350 orphans were fed at Outreach Village Center, a shelter for orphans established by Hezekiah Nyaranga, hero #1. Hezekiah cares for these children during the day, and at night the children return home. By Hezekiah caring for the children, the state cannot take away their land. But Hezekiah needs our help. Hezekiah has a pharmacy and while the children receive free medicine, some of the medicine, Hezekiah is required to pay for. There is even a small clinic on the premises and medical care is available for free to the children. The Richard M. Brodsky Foundation recently contributed $300 of the $750 which Hezekiah needed to keep the pharmacy up and running. To contact Hezekiah directly you can write him at reachout5@yahoo.com.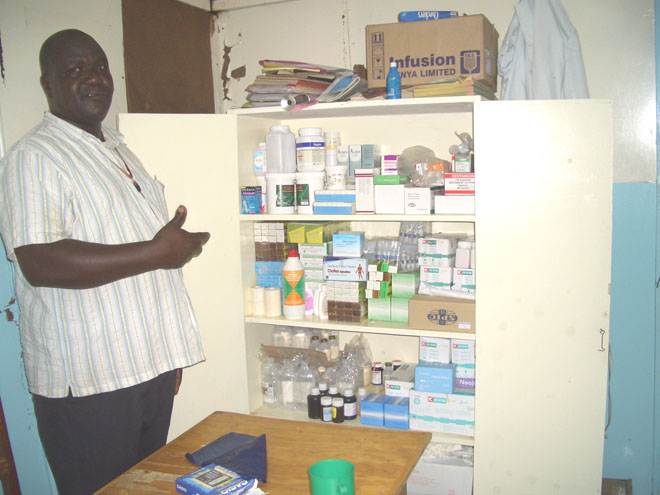 Hezekiah's Pharmacy
I personally am not a rich man, nor does the Richard M. Brodsky Foundation have a lot of money, but when it spent $1,000 for the orphan dinner... trust me, there is no greater feeling than knowing you are making a difference and the results are right before your eyes. Seeing how the money is spent firsthand and knowing that we, anyone out there can raise a $1,000 through their school, place of worship, work place, etc., to feed orphans is a very comforting feeling. We can all do our small part to help others less fortunate than us. Nothing is more gratifying than to hear and see the joy of the orphans as they sing and dance and enjoy a meal.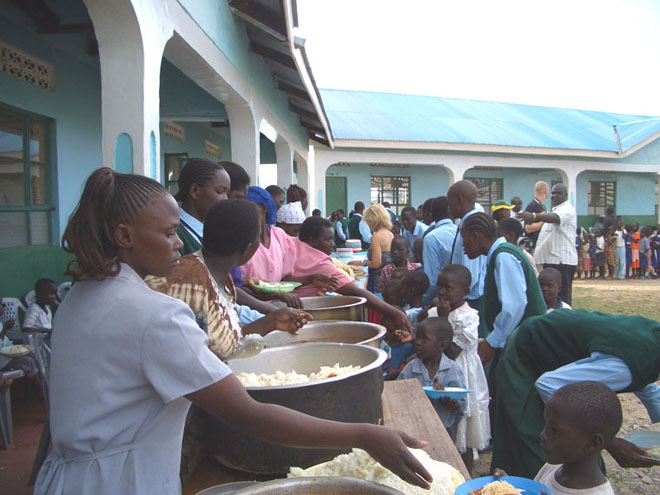 Orphan Dinner and Dancing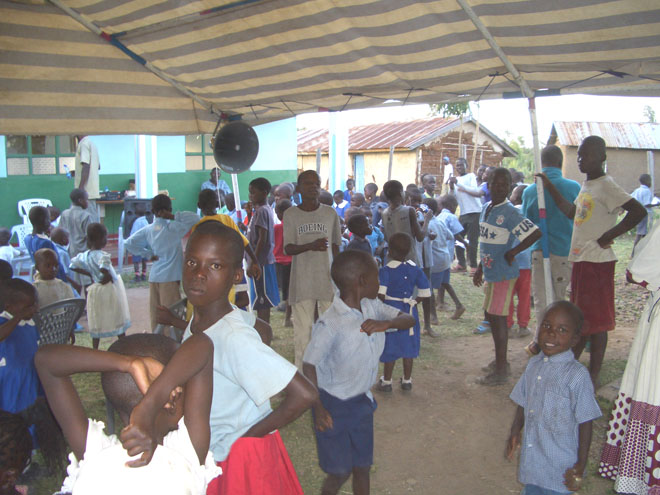 500 CHILDREN participated in the 5K children's walk and they were served juice, biscuits, bread and margarine after the walk. Jodi and I personally went to shopkeepers in Kisumu to request food donations and a few of the bakeries and markets came through with donations as they were eager to be included in the World AIDS Day events and feeding the 500 children. Special thanks to Mon Ami, Kenshop and Nakumatt for their food donations. Other food donations came from Jalaram Academy, Braeburn, Kisumu International School, Bulb Motors, Population Services International, and Pabari; thank you all for your food donations. We hope to get many more local vendors contributing next year. The organizer for the children's walk was Joseph Thuku of CDC, hero #2, no stranger to HIV / AIDS awareness. It was Joseph Thuku who tested Barack Obama and his wife, Michelle, for HIV last year.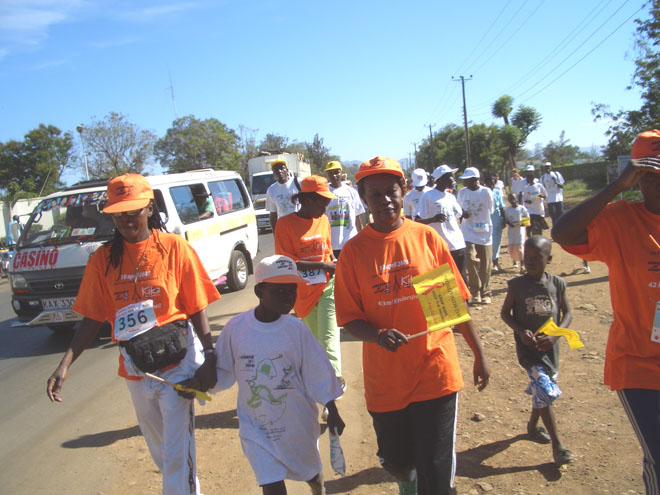 500 children participated in Children's Walk                                                         
On World AIDS Day, 2007, over a thousand people came out to show their support to those who were running and / or to support a friend who was walking in the Children's Walk. Naturally, there would be bands and dancers to support people who are living with HIV as well as to show their respects to those who had died from AIDS.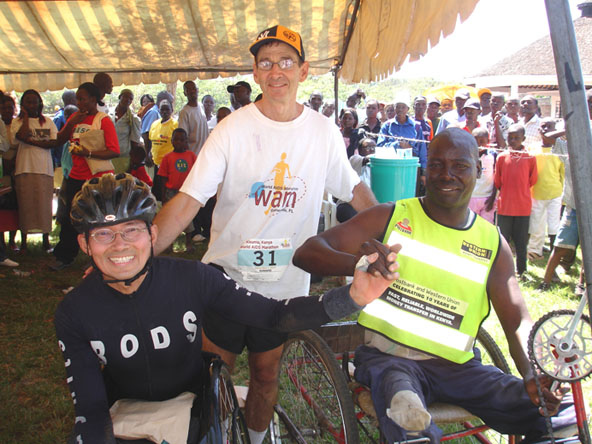 To really celebrate the spirit of the day, two wheelchair participants, Dr. William H. Tan (pictured above), of Australia and Anthony Rioko of Kenya, heroes #3 and 4, participated and completed the marathon in 03:50:59 and 03:09:43 hours. In addition to completing the World AIDS Marathon, Dr. William H. Tan, http://www.willpower.com.sg, will be completing a marathon on every continent including Antarctica. You will never meet a finer, more courageous, decent human being than Dr. Tan. And true to his word, Dr. Tan made good on his commitment.
On December 2, 2007. Jodi and I, a bit weary after our run the day before, travelled to Kakamega and then Bushili Village, a little over an hour's drive heading west to visit Susan Thompson, hero #5, http://www.fish4Kenya.com and to see her projects. Susan is a Canadian marine biologist who teaches Kenyan women how to raise fish for their families in local fish ponds by adding and adjusting chemicals. It has become such a huge success that the men have decided to turn the project into a business. Susan also brought 6 sewing machines and cloth from Canada and she has taught the AIDS orphans and their caretakers how to make school uniforms. When Susan, Jodi and I got out of our car at Bushili Village. Emily Kwoba Lumbugu and her group greeted us like we were long-lost relatives from another land. They danced and celebrated our arrival but this was all due to the love and respect they have for Susan.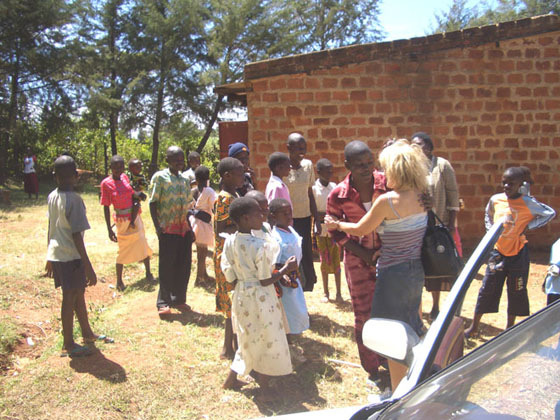 HEROES #6,7,8,9
The Richard M. Brodsky Foundation has three Kenyan board members who are all my heroes, http://www.richardmbrodsky.org/board.html, Philip Maiyo, Secretary of the Chepkero Athletics Club, had been largely responsible for arranging for 86 Kenyan runners to receive athletic scholarships at American universities. Dr. Timothy Thomas is head of HIV research at CDC KEMRI and has had a major effect in reducing the number of new HIV-positive babies born. Tim's goal is for all Kenyan's to know their HIV-status, especially pregnant women. The likelihood that an infant will be brought into the world HIV-positive will be substantially reduced if both HIV-positive Mother and infant take a single dose of the medicine, Neviripine, during childbirth. Alie Eleveld has saved thousands of lives by bringing the technology of clean drinking water to Kenya, as well as helping numerous groups to assure that their projects have safe drinking water. And last and most important of all is my wife, Jodi, who chose to remain married to me and to keep our family loving and whole. It is Jodi's and my greatest wish to reduce the stigma of AIDS, and to show that people who are HIV-positive can lead a productive life, but they need the love and support of their family as well as access to the AIDS medicine, follow-up medical care, nutritious food, clean drinking water, moderate exercise, no smoking, no drinking, and the end of poverty.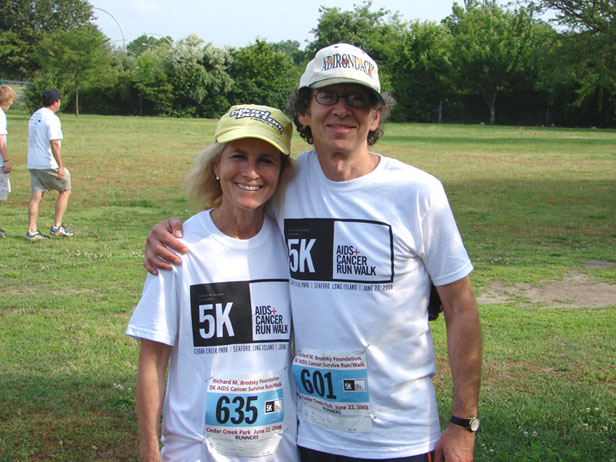 Jodi and Richard Brodsky at the 5k AIDS Cancer Run Walk, http://www.5kaidscancer.com that the Richard M. Brodsky Foundation sponsored on June 22, 2008 in Seaford, New York.
At different times during the year the Richard M. Brodsky Foundation sponsors shoe drives so we can send used shoes to Africa. Many children and adults in Africa have never owned a pair of shoes. A $1 contribution is requested for each pair of shoes, preferably running shoes, sent to the foundation's address, see below.                                                                     
Back in America, December 2, 2007,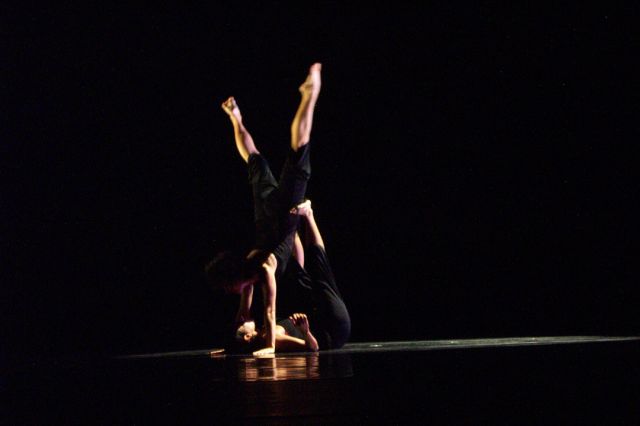 Leymiss Bolanos Wolmott of FuzionDance, http://www.fuziondance.com, did a benefit dance for the Richard M. Brodsky Foundation / World AIDS Marathon. If you would like to do a dance benefit or concert to help support the work of the Richard M. Brodsky Foundation, you can also have a link placed on the marathon website for upcoming events, www.worldaidsmarathon.com, If anyone would be interested in hearing me speak about how it is that I'm surviving two fatal illnesses and completing 95% of the marathons I sign up for, please contact me at RichardM.Brodsky@gmail.com.                                                                                
In an earlier newsletter I reported,
"According to UNICEF's State of the World's Children 2007, a report of the 60 countries with the highest numbers of rate of children dying before their fifth birthday (U5MR, under 5 mortality rate), Kenya has 120 children dying per 1,000 children before they reach their fifth birthday. Even worse is the fact that Kenya is fifth from the top of the list for countries having the greatest increase, 24%, in the U5MR rate from the years 1990 - 2005. Only Iraq, Botswana, Zimbabwe, and Swaziland have had a greater increase in the U5MR rate from 1990 - 2005."
In a recent December 2007 update, on Unicef's website, the U5MR estimate for Kenya in 2006 has remained the same. It should be pointed out that these numbers are only estimates. Considering that only 7 countries had an increase in the U5MR from 2005 - 2006, this is not a good sign for the children of Kenya. Odder still is the fact that Kenya continues to have a reduction in the number of new HIV cases.
On the plus side, if we can disregard statistics for a minute, I'd like to share a major trend which I observed during my last visit to Kenya in December, 2007. In an earlier newsletter I had reported how a group of AIDS widows who cared for AIDS orphans had no interest in being tested for HIV, due to the stigma of having AIDS and the inability to have easy access to the AIDS medicine and follow-up medical care. There has been a major reversal and the AIDS widows now are seeking to be tested for the AIDS virus. One group of 20+/- AIDS widows asked me if there was a vehicle that could bring them to the city to be tested. I contacted Joseph Thuku at CDC and I was told this was not possible since the nearest testing center was not far from where the women resided. It's questionable if the women will ever make the trip to town, but what if there was one medical van that could reach villages and test the AIDS widows and others and that same medical van had a nurse or doctor who could also bring medicine and provide follow-up medical care for those previously diagnosed with the AIDS virus.
My foundation kept its promise by making World AIDS Weekend a memorable event to orphans, runners, people whose lives have been affected by AIDS, and the people of Kisumu. We hope that others will help contribute towards these expenses so money can be donated to various AIDS projects, http://www.richardmbrodsky.org/support.html and these events can happen more often.
Donations can be made via either website, www.richardmbrodsky.org or www.worldaidsmarathon.com or by mailing a check to:
The Richard M. Brodsky Foundation
1247 Mara Court
Atlantic Beach, NY 11509

Senator Barack Obama has wished me success for all four World AIDS Marathons since 2004. It would be my greatest wish to inform Senator Obama that people in America are truly supportive of people whose lives have been affected by AIDS.
***
The Richard M. Brodsky Foundation, Inc. is a registered 501(c) (3) public charity.
(c)2005 Richard M. Brodsky Foundation
The World AIDS Marathon and its logo are trademarks. All Rights Reserved.